Services for Voiceover Colleagues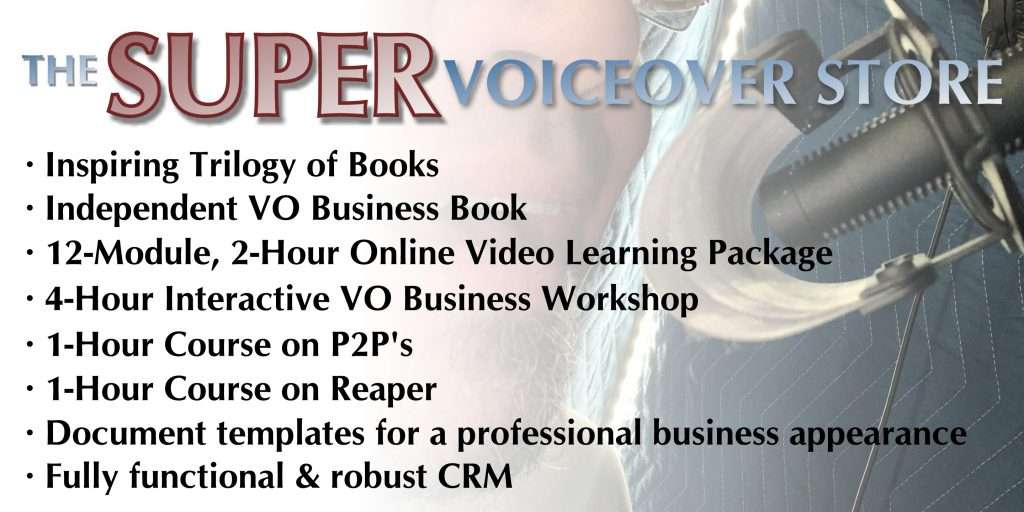 Interesting in starting out in voiceovers?  Been at it for a while and need some refreshment?  To clarify, I'm neither a Voiceover Coach nor Demo Producer, but I have a great reference for you if you're looking for one!
Visit my store and see what I have in store!
To explore or purchase a la carte, visit the links below.  I offer some amazing services to help you get started, or to take your voiceover game to the next level, including the following:
Super Voiceover Docs

Super VO Business Docs: documents including contracts (with clauses!), marketing messages, goal tracking sheet, professional stationery like letterhead, and more. to up your professionalism and up your game, for only $50 - it's a steal!  Click here for more info.
RESOURCES: Super VO Docs
$50.00
Online Video Courses

The VoiceOverdrive Complete Business Guide: Over 2 hours filled with 12 comprehensive modules to teach you about creating & sustaining a thriving VO business and so much more!
Available now at www.supervoiceovertraining.com!  Want to take your business to the next level?  Just starting out and want to learn a lot of what there is to know about running a successful voiceover business?
12 modules encompassing 130 minutes of excellent and broad teaching presented in a very unscripted delivery, Joshua covers Marketing, Visibility, Coaching, Networking, Creating & Sustaining a thriving VO business, Tips and Tricks, Practical Tools, Goals, and more.  All for the affordable price of $99.
VIDEO COURSE: VoiceOverDrive Complete Business Course
$99.00
Alternatively, check out:
"How to succeed using P2P Voiceover Marketplaces" course for $39
"Streamlining your REAPER Voiceover Workflow" course for $29
"From Hobby to Enterprise" course for $69
All also available at www.supervoiceovertraining.com.
VIDEO COURSE: How to Succeed using the Voiceover P2P Marketplaces
$39.00
Inspirational Voiceover Books
The Super VO Book Trilogy: 3 inspirational books.  The first is 310 pages to inspire you that you can do this!  Want more?  The second is 300 more inspiring page!  Still hungry?  Check out the grand finale for 325 pages of you-can-do-this! 
Click here
for more info.
Joshua Alexander Voiceover Book Bundle
$102.00
Fully-functional Voiceover CRM

FirstVoiceData: a Microsoft Access-based CRM that enables accounting, ROI, tracking, customer-follow-up, marketing, and of course much more.  
Click here
to check it out.
FirstVoiceData(TM) - Custom Voiceover CRM Software
$250.00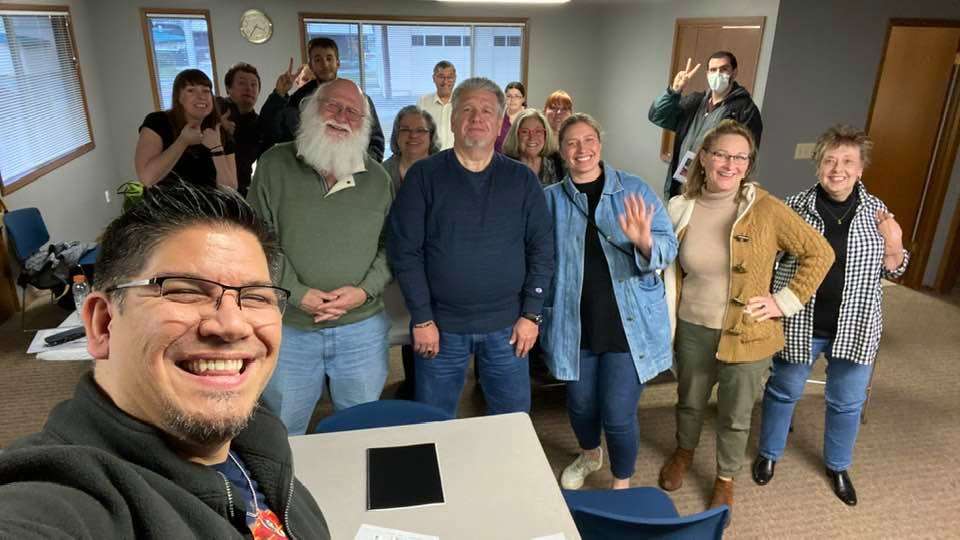 I run quarterly workshops entitled "From Hobby To Enterprise" which are chalk-full of resources to help you transform your hobby into a full-fledged commercial VO enterprise!  Check out my workshop information and registration page for upcoming workshops!
If you'd like to be kept informed about the next workshop, click here for more information and to read what past attendees have said!  Thanks.
Free Voiceover Consults

Interested in starting out on a career in voiceovers?  Need to rev up your existing business?  I provide free half-hour consults to help you up your game.
I conduct on average between 5 and 10 voiceover consults a week, and I get to talk with a lot of people who are interested in starting out, and have questions on voiceovers. Coming from someone who reads scripts for a living, all day long, I love pulling back and talking to the 3-dimensional people!
If you are A) curious about starting a career in voiceovers, or B) would like to ramp up your VO game, and would like a free video consult with an industry veteran who can share marketing tips and tricks with you, strategies, as well as answer your questions on the world of voiceovers, I'd love to talk with you!
There is no fee! I just enjoy talking with people. There is SO much to know going into any entrepreneurial pursuit, voiceovers notwithstanding, and I'd be glad to help you navigate the waters. I've been given a ton by a ton of folks, and I just try to pay it forward.
Voiceovers are a dream career I never thought possible - until I too stepped out in faith and risked, and invested, and dreamed. I'm so glad I did. I'd love to help you do the same.
Voiceover Demo Videos

Do you have Audio Demos?  Of course you do!  So let's say you need to have videos made from those audio demos.  I can help you create something with moving graphics incorporating your logo, your contact information, and of course the demo itself, for posting to YouTube or Vimeo so your SEO score can improve.
I was a corporate and wedding videographer/video producer from 2003 to 2019, and have plenty of production and rendering experience to create some flashy video demos.
Here are some examples:
Great VO Blogger Colleagues: